Hey all
Im just back from Kisiizi, what a place! I was looking forward to the trip for a while because of the two uk boys Roddy and Callum who were down there and I had heard from the so much about the area and I was excited to see what they were getting up to and doing in the back end of beyond. We headed off on Saturday which meant I had to get a mutatu into town for 700shs, the day started bad I put my hand out when falling towards the backseat of the taxi and of course inside the seat was a nice large piece of sharp metal which sliced my hand open yes aids was my first thought but it wasn't to bad. I arrived in Kampala centre and I had no money what so ever, I had even had to borrow 200shs off Matt just to get into town, I made my way to the nearest Stanbic and withdrew some of these mighty shillings and off to shopright! I dropped my bag off at the bag security drop and I got a smile out of the security guard he obviously remembered me from the last time I was there and that added to the fact I was white clearly was over bering for him as he had a little chuckle to himself. I headed straight for the bakery it was about 8:30 and I was starving, as with all times that the shopright is busy nobody works the counter to allow for the Ugandan favorite pastime of queing. I Finnaly got some service and got two strange apple pastry things, I grabbed a mango juice drink and headed for the counter. I had my money checked as per usual and headed out to get my bag. I got my bag and another smile from that security guard, indeed. I headed out and found the nearest bodaboda, to the kisoro air strip gewd sir and away we headed.
I arrived at MicroCare hq at about 9ish, Anwer was already busy working on something.
I then proceeded to wait as with all african anything I had to wait and wait and eventually at about 11:30 we left. Me and Anwer were in the backseat with about 40,000shs worth of snacks and drinks that we picked up at payless, yes the shop names are that imaginative here. We were off and next stop was Masaka for lunch, I had plenty to look as we drove along but I couldn't help but over hear anwer's music was that who I think it was? The backstreet boys? After being offered a earphone I soon realised that indeed my small indian buddy was lisening to the backstreet boys and Celien dions greatest hits remixed, what a surrel journey I thought to myself as we took photos of riduclous things and each other lisening to various classic hits with a 5ft indian 28yr old IT technician in Uganda….well that's a head full.
We arrived in Masaka for some lunch its about 3ish and this place is rough, there is a buffet which me and anwer skip due to matoke and what seems to be goat and instead ordered ourselves some chips and chicken with passion juice to wash it down. We head off hopefully we shall be in kisiize at about 8-9 I think oh how little I know.
We arrive in mabararara(well I know it has a lot of a's and r's)at about 7-8ish and I am told that we are staying here for the night due to a number of issues 1) Our driver cannot see at night 2) The road is very dangerous at night with gangs 3) It is against MicroCare rules to drive at night. We stop at the Dena guest house oh so very classy, the towels are solid and water is a luxury out of the taps. Anwer and I leave to check out the sights and sounds. Anwer seems to know where he is going as we soon get lost and I feel a little out of place, usually in Kampala you will see the odd white person but oh no not in mabararara I feel It maybe the least white friendly place I have been to yet. We find a nice place called City Top resturaunt(indian of course) and head in as with everything in Uganda we soon have a surreal experience well I know I did, out of the kitchen comes an indian man who comes to talk to Anwer oh yea you know it just turns out to be a cousin of his! That's they way Uganda is just like wha? Things happen here that you'd only expect to happen in Lack or somehere in deepest darkest Fermanagh.
We has a nice meal here, I had Chicken Punjabi and Anwer had chicken curry, I got some weird things ordered for me by anwer which were rather nice and the garlic nan bread came out in a strange shape(hopefully I will upload a photo of it) We then headed to the local hub of excitement, Anwer then asked me if I wanted a massage and a steam bath I did hope he meant not from him but neither the less I was confused, this soon subsided when I arrived and noticed the large sign "massages and steam baths" I accept the small indians joke. We headed into the bar and then out again via the back door and down some stairs and indeed there it was a steam bath and massage parlour open at about 10pm, I soon realised then that it wasn't a joke but I thought you know what lets go for it, unfortunetly anwer wasn't to keane on joining me and I was even less keane on heading into a steam bath with about 100 black people in the most un white friendly place I had been in so we skipped the idea and headed to the pool table in the bar to play some pool and watch the R.O.I V's Germany football match while we drank what was suposedly disguised as beer. We were soon joined by our 40yr old driver Wilbrod, he is from kenya but came to Uganda soon after old idi left. He is some character and soon embarised us with some Ugandan dancing matched with some terible music. We continued with our pool and even had a few competitions with some Ugandans I eventually lost to an old fella. We headed back to Bena Guest house for some hopefull sleep for our big day tomorrow. We didn't get much sleep as the cleaners and gaurds talked and cleaned all night for no gewd reason. We headed off and now there was no stopping us from getting to Kisiizi. We arrived at the boys house in Kisiizi and it is quite nice with beautiful views of the surrounding mountains.(they are more hills but kisiizi is so small everything is over exagerated). The boys werent there so we head to the Microcare office in the centre of Kisiizi, the great thing about kisiizi is that it is tiny, it takes about 10minutes to walk from one end to the other. The boys were at the Microcare office looking after the internetcafe, was gewd to see them and after exchanging plesantreys we all got onto the MicroCare pickup, I say onto as there wasn't enough room in the cab so Anwer,Callum and I sat on the roof and back as we drove along rough jungle roads to get to a local medical centre where Donata the nurse who was with us was having a meeting with the local medical workers. The four of us Callum, Roddy, Anwer and I headed up the hill to get a better view of the surrounding beautiful valleys. We got to the top and realised there was a church soon there was about 30 kids around us staring and edging closer and then running away as soon as any of us moved, these kids had never seen a "white ape" before and so were scared of us but in a playfull sort of way. We had a lot of fun playing with the kids them running after us and then us chasing after them. We soon were away back down the hills to Kisiizi but this time Roddy joined us on the back of the pickup.
We got back to Kisiizi and we headed round to the round house which as you can imagine is very descriptive regarding the shape of this small 2bedroom house. We then decided to walk to the waterfall after watching it from the round house we wanted to get a closer look. It was about 200metres away from the roundhouse and a nice walk across a field was all it took. On our way back we were surrounded by kids who soon started to play a sort of tip the can sort of game, we headed back up to the round house to watch the games unfold. Soon though we got a little bit to much into the game and eventually decided to go down and show these amateurs how its done!
Callum, roddy and I had an awesomely messy time crawling through grass,climbing trees,running,jumping,rolling and generally being kids as we managed to actually beat some of the kids and made ourselves very proud about being 10yr olds. After that extensive exercise we said out goodbyes and headed for showers! Dinner was great and at the rose guest house which is part of the round house. We then had a great night of cheat which ran late into the night, I then went to stay with the boys in the west wing. I had been given a range of reports of lack of sleep in the boys house due to a number of factors and I soon found them to be true. First off no electricty not gewd. I then got into bed and luckily Roddy had told me there was mice in the room so I didn't feel as freaked out when I heard loud chewing. The monologue chewing soon put me to sleep, I was then awoken by christine's baby savana who even tho being ridiculosuly cute is able to wake the whole house up. Then the myth that is goat lady singing began and to no surprise is kept me awake too not it being about 5 the water pump is started and it just so happens to be right outside my room! What a night! No wonder the boys are glad of my sofa in Kampala. I head down to the Rose Guest house for breakfast which was cereal sausages and boiled egg. After filling up it was off to the microcare officeto fill the Microcare pick with gerry cans. Me and roddy headed into the office and saw a small child standing outside he starts to scream and his eyes get wider and wider as he sees us coming closer. Whats is wrong I think and before I know it he has jumped head first down the walkway to microcare towards the bank with a drop of about a meter the child then proceeds to scream and attempts to crawl away as the parents watch and do nothing, there is nothing we can do and we conside the posibility that the child may fear us some how. We are later told that the parents tell their children if they don't behave that the white ape will come and eat them, poor child, he was the scared two more times once by Roddy and his lack of common sense and once by Callum who had missed the whole kurfuffle as he was teaching a class at the time.
Callum and I head off with Willbrod and another man who I don't know and with 100gerry cans roped onto the pickup roof and back we head off into the back of beyond. We arrive at various holes in the hedges where we are meet with random drunk men who clearly have nothing better to do than to be drunk at 10am. I took various photos of the handing out of gerry cans and many a happy new gerry can owner. We arrive home to get a well deserved lunch at the Rose Guest House, a yumi combo of chicken rice and chips.
To night we go for the quiter option and stay at the roundhouse to play some more cheat and scraggy marry which is donkey but by using a queen instead, exactly english ey?
I stay at the Roundhouse tonight which means I actually get to sleep! I stay in a cosy room with Anwer,separate beds! We get up early to get breakfast showers and get ready to go.
I say my goodbyes and we discuss the plans for Friday as the boys are coming up to Kampala this weekend then its into the MicroCare pick up and away we head, next kinda general stop Kampala!
We arrive after a ridculous 9hour trip(it takes 6 in a bus)
All safe and well
Back to porridge
Love to all
Guy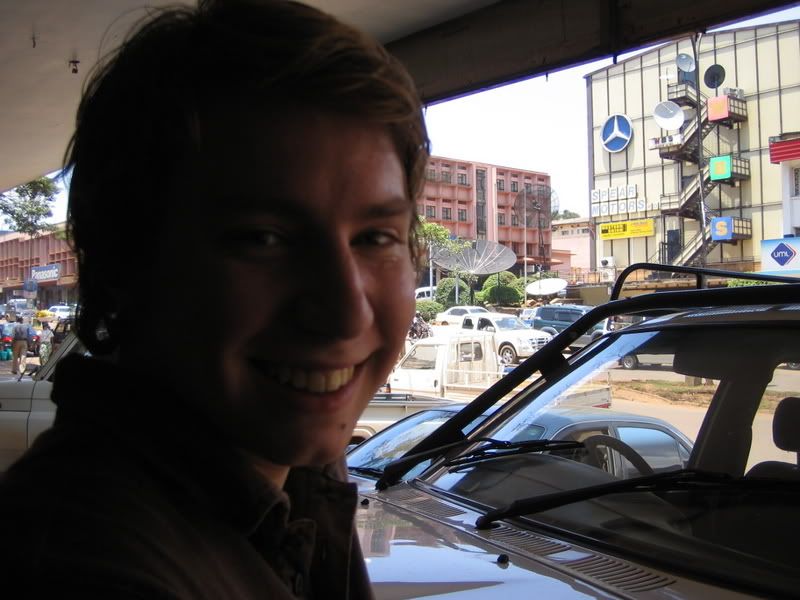 This is me in a garage in Kampala just before we left.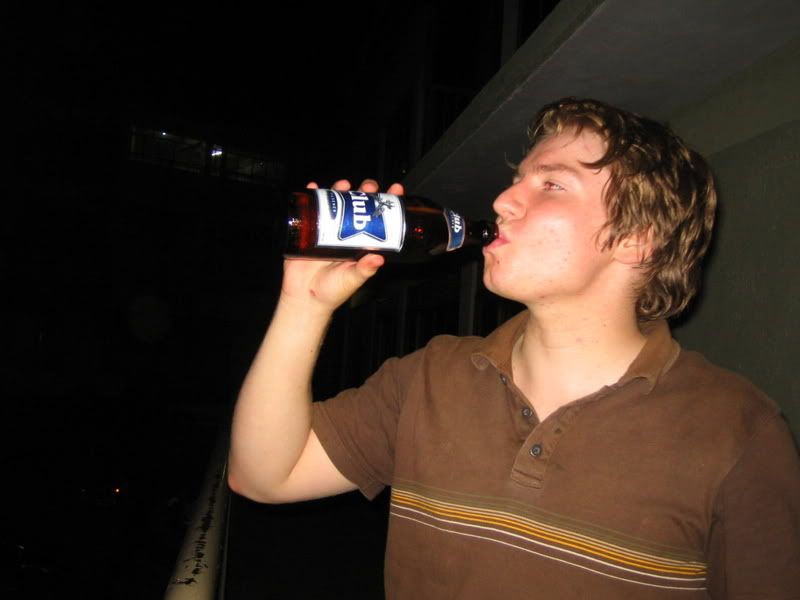 This is in Mabara where we played pool, the disgusting beer here pushs me to Guinness.

This is of the Mountains on our drive to Kisiizi on the Sunday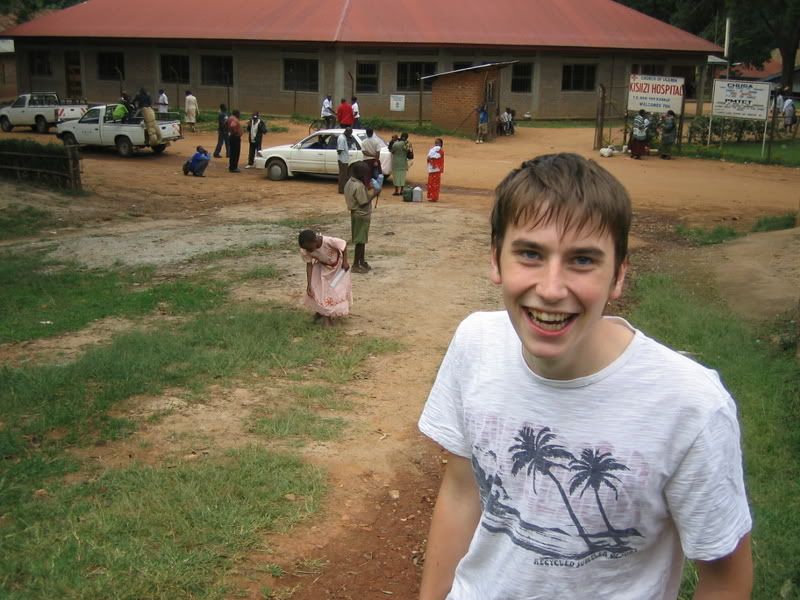 This is the main centre of Kisiizi and Roddy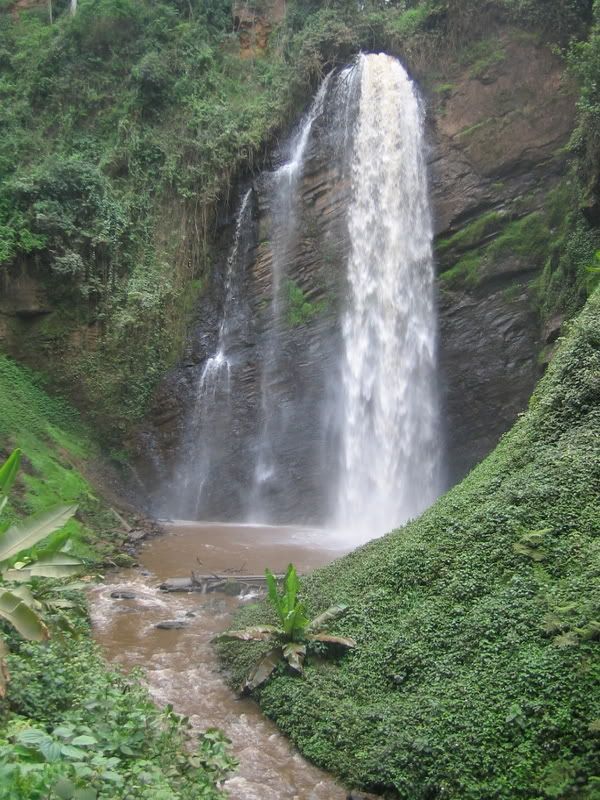 This is one of the Kisiizi waterfalls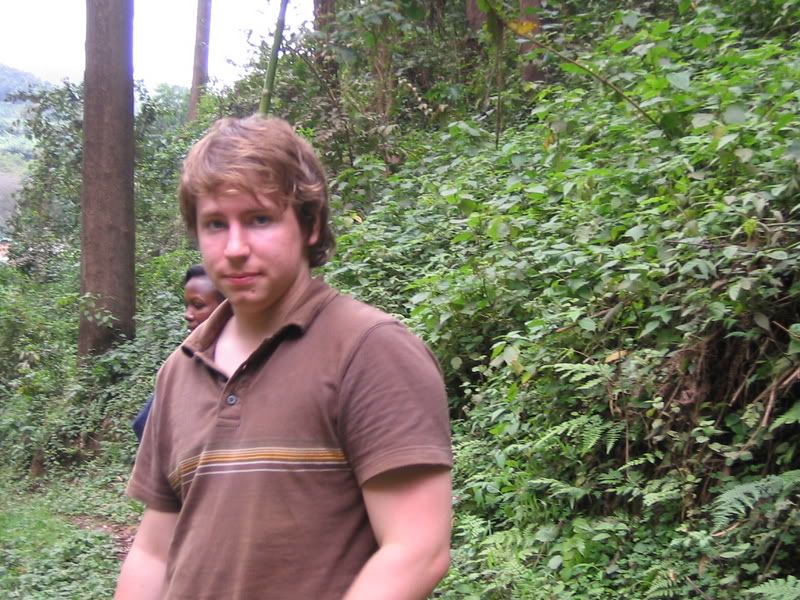 Here's me at the waterfall, yes same tshirt as yesterday due to the rule if its dirty and your gona get dirty wear it.

This is a terible photo by Anwer of Roddy, Callum and I playing tip the can with the kids but you cant really make out anything.
I shall try and upload more photos at a later date but at the moment it takes way to long to upload merely one